Regular
Joined

Sep 21, 2018
Messages

10
Reaction score

82
First Language

Engrish
Primarily Uses

RMMZ
THIS IS NOT A BUG REPORT THREAD!
For Reporting Bugs:
​
Take a look at the
Troubleshooting page on the wiki
,
follow the steps listed and if it still doesn't work, please report your problem through the link in Step 2.8 with as much detail as possible.
Please follow this as we might miss any bug reports in this topic.
Welcome to the VisuStella MZ Sample Game Project!
The VisuStella MZ Sample Game Project is a starter project created by the artists and programmers of Team VisuStella to let you kickstart your game dev journey into RPG Maker MZ!
This Sample Game Project Includes: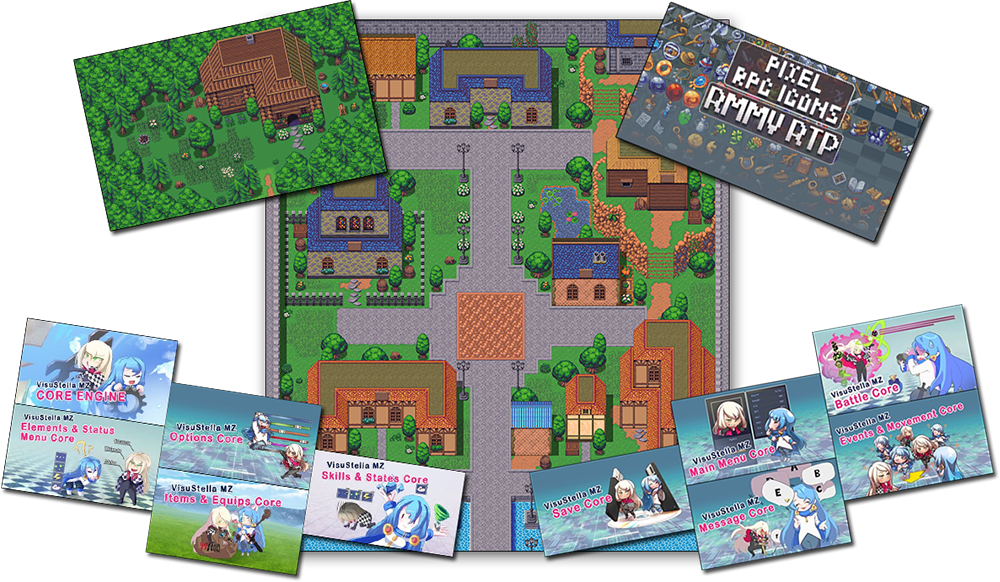 ​
Beautiful custom tilesets from Archeia and other members of Team VisuStella!
Adorable custom icons from CazWolf's Pixel Fantasy collection!

Over 300 custom icons!
1:1 replacements of the default iconset
You can go ahead and replace them without changing up your game!

Empowering plugins from Yanfly and many other proficient plugin developers!

Core Engine, Battle Core, Main Menu Core, Message Core, Events & Movement Core, Items & Equips Core, Skills & States Core, Elements & Status Menu Core, Save Core, Options Core
10 heavily packed plugins for maximum ease of access!
Many of the needed essentials to start up a project!

And special thanks to many, many, many, many, many others!

You'll find them inside the sample game project!
Last edited: