Om nom nom
Joined

May 22, 2019
Messages

4
Reaction score

11
First Language

English
Primarily Uses

RMMV


Warning: This game contains violence, mild swearing, mild gore, horror, death, homicide and other disturbing or mature themes. There are screen flashes and and display of visual patterns or graphics that may be discomforting. Player discretion is advised.
═════════════
Preface
Quick Transmigration
Or "fast wear 快穿" is a trope where a soul enters different bodies (transmigration), usually from different worlds. There tends to be goals such as fulfilling said body's last wish, the purpose of the system, etc. and after the completion of these goals (if any), the soul would move onto the next body.

The Placeholder
A heavily narrative-driven series inspired by world-hopping and the above trope!
Teething Fever is its first episode.
Story
SYNOPSIS
In Teething Fever, a system attached themselves to the protagonist in her hour of need, sending her soul across dimension into the body of a moonperson, or what humans call "vampire".

To fulfil her life's wish, she would have to save a clan of moonpeople, ultimately preventing the species' extinction. Except, she must first escape from her host's mind, put up with a condescending system, play head of the family with a bunch of creatures older than her, uncover a traitor, find a treasure and yes... stop breaking bathroom taps.

SETTING
The host's world is one with mana, spirits, beasts, undead, fey and other supernatural creatures. However, infighting, natural selection, overhunting and other causes have long caused them to vanish from public eyes.

The story will bring you through 4 main areas:
- The host's mindscape
- A little mansion that sits snugly in this land among humans, sheltering several strange inhabitants who may not be what they are masquerading as.
- A pocket dimension secreting the last of many species that are extinct in the outside world
- ???
═════════════
Features
(in development)
Family themes
Unlocking memories
Narrative branches depending on choices made. What is more important—love or duty?
2 main endings
10+ weirdoes characters
Convincing and obtaining the aid and friendship of team members
Exploration and investigation
Permadeath for certain main cast
Puzzles
Battle and crafting
CGs (story scenes, hopefully some for important endings too)
OSTs (ST wise, I'm using some from YouFulca and RTP in the demo but I hope to replace them piece by piece)
Characters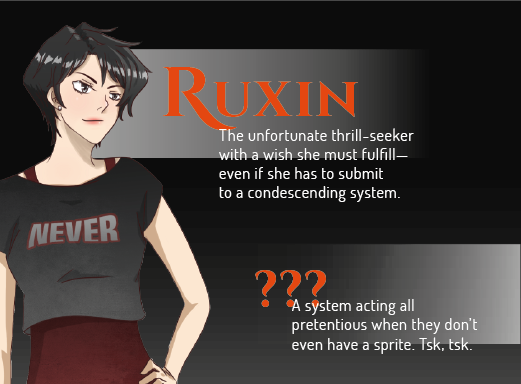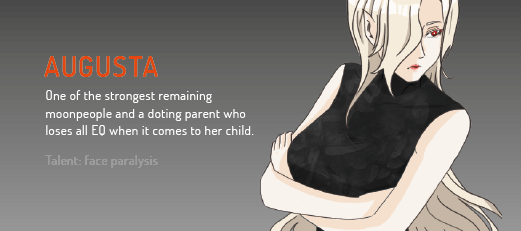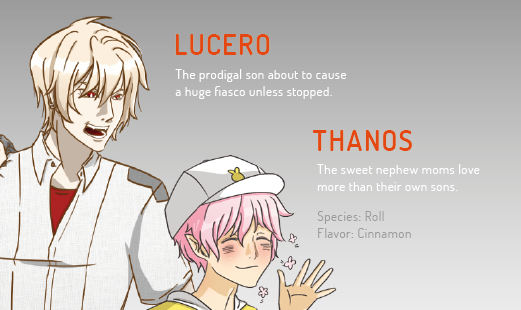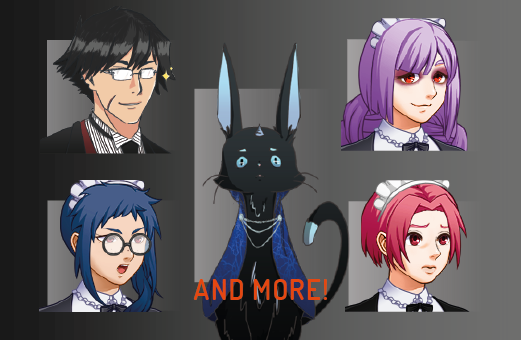 Screenshots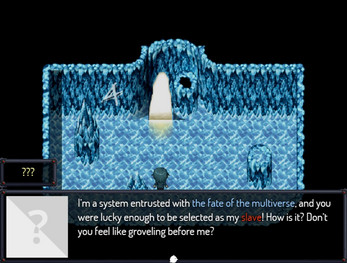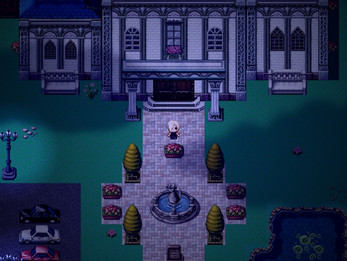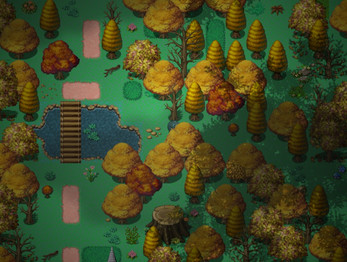 Credits
Engine
RMMV

Story, Characters, Dev
monolette

Script
Yanfly
Moghunter
SumRndmDde
Terrax
Chickie
TheGreenKel
Sasuke Kannazuki
Sanshiro
Aloe Guvner
Tigress

Graphic
whtdragon
Vibrato
comshou
Cyanide
Aekashics
Avery
PandaMaru
byBibo
Palxan & Verdibona
Kadokawa
monolette

Music
YouFulca
monolette
═════════════
Download
DEMO on itch
. (win & mac)
Estimated playtime: Under an hour.
═════════════
My first game! This journey is both fun and frustrating. I'm so happy to get the demo out ;-; Thanks for reading~
Last edited: