Artist
 ​
Dear friend,​
 ​
I pen this letter with great pleasure and delight, for I have grand news to share. Our kind and generous keepers have put out a call for the most talented of artists, architects and writers - an opportunity we must not miss! They should like us to fashion a brand new world, in image and in word, and allow it to inspire our fellows.​
 ​
Can you imagine? A brand new world! Ours to mold and shape into greatness. And yet, the joy does not stop there, for they've also offered a generous recompense for our efforts. Treasures familiar and new - building blocks to use for our ventures grand or small.​
 ​
Are you with me, friend?​
 ​
Yours Truly,​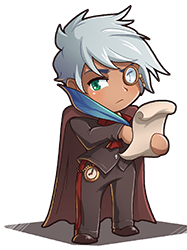 ABOUT:
In case our verbose little friend was not entirely clear, we are hosting another contest! This contest is the first of many things we have planned for you in the honor of Golden Week - so expect a week-long celebration in addition to a challenge to your skill and creativity.
This mapping contest is a merger of two things that go together hand-in-hand when it comes to RPGs: mapping and writing. Please be sure to read the instructions closely, as your participation will involve 2 parts.
RULES:
To participate, your entry must contain the following:
1) Your Entry Map
2) Write-Up inspired by another map
You may use any RPG Maker for your entry. Only one entry per participant, please.
ENTRY MAP:
- Map must be minimum-sized for the maker you're using (ex. for VX-Ace, that would be 544x416, while RMXP would be 640x480), posted as an image (no videos this time, please).
- You may use any legal material you have permission to use, with appropriate credits.
- Your map can contain characters, objects and so on.
- You can use editor mapping or parallax mapping.
WRITE UP:
- The write-up should be a short piece (1-2 paragraphs) inspired by a map that another participant made.
- You can write poetry, prose or a story/plot synopsis.
- If you are one of the first participants to post an image, you may wait and edit in your description after more maps have been posted.
PRIZES:
Top 3 entries will be receiving a resource pack from our forum store.
Grand prize winner will be receiving a resource pack, as well as a choice between a copy of RPG Maker or another resource pack.
A secret winner will also be chosen and will receive forum store credit.
DEADLINE:
Wednesday, May 6th